| Main Page | FAQ - Information About Hypnosis | Hypnosis with Children |
HYPNOSIS FOR HEALING
Welcome to the revised web site for Hypnosis for Healing. Self-hypnosis has several hundred applications, i.e., if you can imagine a situation that needs change, then it is reasonable to expect that a personalized CD can be made to resolve the issue. In addition to the audiobooks listed here, we now offer a new service - a PERSONALIZED CD made to match your needs. This includes an interview via Skype. When you place an order with Mesmer4u@juno.com, simply include your Skype name, and Ted Benton will contact you via email to set up a Skype session. The cost of the CD is $100.00 for personalized production and shipping.
---
Instructor: Theodore A. Benton M.Ed., ACH
Training Schedule
Session I: April 11 - 12 & April 25 - 26
Session II: September 26 - 27 & October 17 - 18
Course Hours: 9am - 5pm
Saturday classes are held at the Winchester Hospital, Crandall conference room (CC2), 41 Highland Avenue, Winchester, MA 01890.
Sunday classes are held at the Center for Healthy Living, first floor conference room, 200 Unicorn Park, Woburn, MA 01801.
Tel: 1-781-756-4700
For further details please email Ted Benton at tbenton@winhosp.org
---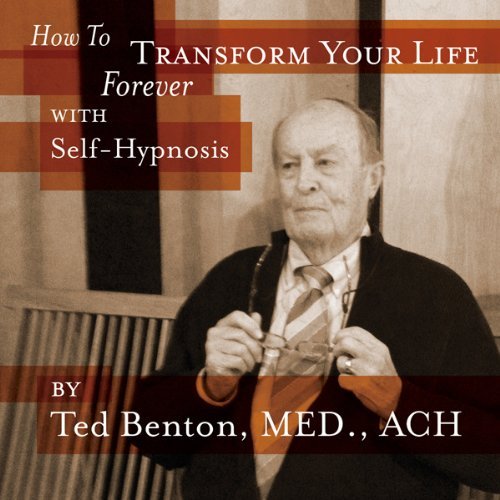 Just published:
How to Transform
Your Life Forever
with Self Hypnosis
(an audio book by Ted Benton)
Discover the life transforming power of self hypnosis. Listen as author/narrator Ted Benton guides you into and out of the experience of self hypnosis. Benton, a clinical hypnotherapist who has helped thousands of people with a wide variety of presenting issues, has over an 80 percent success rate. Whether it's smoking, weight loss, phobias, OCD behaviors, anxiety, athletic performance, pain management, or cancer treatment as an adjunctive therapy, Ted Benton can help you to help yourself.
Order your copy from audible.com
Table of Contents
Volume 1

Introduction and Overview
How to Reduce Stress as you Create a Relaxation Response
Smoking Cessation to Prevent Poor Health and an Early Death
Lose Weight for a More Healthy and Active Lifestyle
Reduce/Eliminate Anxiety From Your Life
Eliminate Phobias in 20 Minutes or Less: Fear of Speaking in Public
Children are Excellent Candidates for Self-Hypnosis: Bed Wetting
Reach Your Potential as an Athlete: Golf

Volume 2

Stop Grinding Your Teeth Forever
Hypnosis and ADHD
Habit Elimination: Hair Pulling
Child Birthing and Self-Hypnosis
Cancer and Chemotherapy
Memory, Focusing, Concentration and the Reduction of Test Anxiety
Credits and Music
---
Also available:
Hypnosis, Hypnotherapy and Cancer
(an audio book by Ted Benton)

Order your copy from audible.com
---
Healthy You - May 28, 2014 from Wilmington TV on Vimeo.
---
Read Ted Benton's articles on:
Medicine and Hypnotherapy
The Hypnotic Hero
Probing Minds
Ericksonian Approach to Treating Anxiety with Self-Hypnosis
Hypnotherapy and Children
---
Theodore A. Benton

M.Ed., CI
BIOGRAPHY:-
Theodore A. Benton, a liberal arts graduate from St. Edward's University and Boston University, is the founder of the original Benton's Hypnosis Clinic in Winchester, Massachusetts. He is certified with the American Board of Hypnotherapy and holds a certificate as an Instructor of Hypnotherapy with the ABH. Training with Daniel Brown, Ph.D. & Associates is approved by the American Psychological Association. Ted continues to train with the School of Mind Body Medicine at Harvard Medical School.
Ted Benton wrote a quarterly column "Applied Hypnotherapy" for The Journal of Hypnotism. He is the author of several papers on various aspects of hypnotherapy including "Hypnotherapy, Golf and Tennis", "Depression and Hypnotherapy", "Cancer, Chemotherapy and Hypnotherapy", and "Children and Hypnotherapy". Ted Benton is the co-author of "Hypnotherapy for AD/HD: Preliminary Evidence for its Effectiveness". This paper was delivered at the national Convention for the American Psychological Association in Chicago, August 21, 2002. Benton was also a contributor to the AAMH Journal as well as to IACT's Unlimited Human, and has appeared nationally on television on the Discovery Channel as guest speaker on hypnotherapy featuring Weight Loss and Internet Addiction. In February 2004, Ted Benton was featured as the main speaker at the National Convention for the American Board of Hypnotherapy in Irvine, CA. In October 2008, Ted Benton was a featured speaker at the annual convention of the Association for Professional Hypnosis and Psychotherapy in London, England, where he spoke on the Applications of Hypnotherapy with Children.
---
APA-APPROVED TRAINING:-
2012. Meditation and Visualization Practices for Everyday Living and Well-Being - Department of Mind Body Medicine, Harvard Medical School.
2011. Changing Lifestyle with Mind Body Medicine: How to Create Resiliency in Patients (7.5) - with Dr. Herbert Benson, MD, author of "The Relaxation Response".
2010. Meditation and Visualization Practices for Everyday Living and Well-Being and to Enhance Peak Performance (15).
2010. Cognitive-Behavioral & Hypnotic Treatment of Anxiety Disorders (14).
2008. Conversion Disorders (7).
2007. Integrative Treatment of Eating Disorders (14).
2006. Treatment of Sleep Disorders (7).
2005. Behavioral and Hypnotic Treatment for Pain (14).
2004. Treatment of Obsessive-Compulsive Disorders (7).
2003. Hypnotherapy for Anxiety Disorders (7).
2002. Integrative Treatment of Addictions (14).
2002. Child Hypnosis (7.5).
2001. Integrative Hypnotherapy for Personality Disorders (21).
2001. Optimal and Pathological Self-Development (7).
2000. Hypnotherapy and Simulated Medical Conditions (14).
1999. Hypnotherapy and Habit Control (7).
---
AREAS OF THERAPY:-
Smoking cessation, weight problems, stress management, elimination of all phobias, nail biting, hair pulling, motivation, goal setting, academic progress, sports progress, sleeping problems, birthing, dental hypnosis (bruxism), sexual dysfunctions, self esteem issues, cancer and chemotherapy, interpersonal relations, grief work, eating disorders, addictions, memory and concentration, pediatric problems, ADD and ADHD management, and self-hypnosis.
Hypnosis has over 350 applications, so this list is not limited!


Bookmark NOW!!!
| Main Page | FAQ - Information About Hypnosis | Hypnosis with Children |
| | | |
| --- | --- | --- |
| Site Design by NET Legion | | Visitors since November 2001 |